M/A-Com, Adams-Russell, Micro-Tel,
& Reaction Instruments
M/A-Com was founded in the 1950s as Microwave Associates to supply magnetrons to the US Army Signal Corps. Their role in the industry expanded and in 1978 they changed their name to M/A-Com to reflect the diversity of their product line.
Micro-Tel
M/A-Com purchased Micro-Tel in 1989, according to the Crypto-Museum. My collection of sales brochures (found on this site) indicate they were owned by Adams-Russell before M/A-Com. A brief history of Micro-Tel can be found on the Crypto Museum website.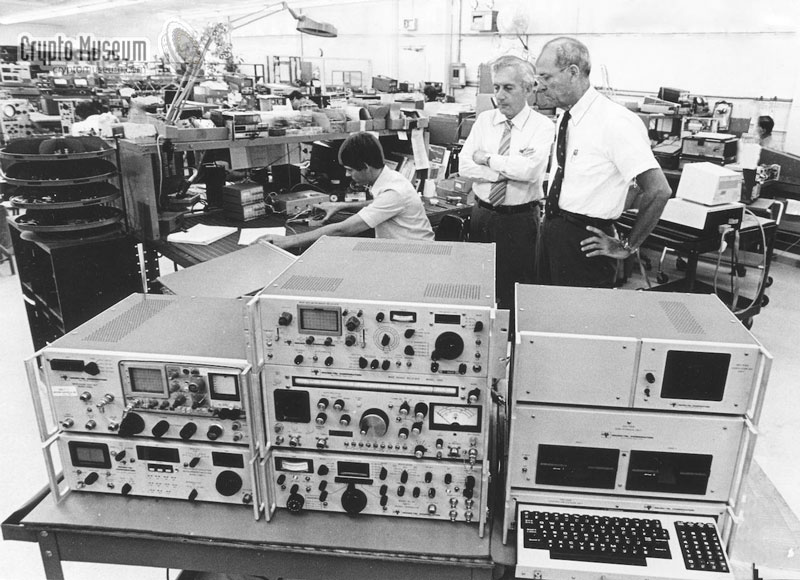 From the Crypto Museum website (Note the Tektronix TDR built into left topmost unit)
Reaction Instruments
I have no information on the founding or progress of Reaction Instruments prior to their acquisition by Adams-Russell. Similarly, I have no information on the entry of Adams-Russell into the surveillance radio business. All of these companies appear to have been purchased along with M/A-Com by Tyco and then by Cobham. They presently appear to be owned by Intelligent RF Solutions (iRF). If you know the history, especially if you worked for any of these companies, please contact me.
(more material on reaction Instruments to follow soon)