Tax Deductible Donations
Tax deductible donations can be made to support this research. The Madison College Foundation hosts the Watkins-Johnson Research Fund. All funds will be used exclusively for research into radio development and history from the WWII to the end of the Cold War.
The WJ Research Fund is a 501 (c) (3) charitable organization administered by the Madison College Foundation. All donations are fully tax deductible.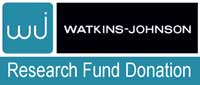 Donations can me made through the link at the right or by postal mail to:
Watkins-Johnson Research Fund
Madison College Foundation
1701 Wright Street
Madison, WI 53704